Yes, this is real… any ideas you would recommend 😂
Do you dream of working from home in your most comfortable attire?
Work Naked Day is on the first Friday of February
Here is the Gut Goddess with a naked face in The Gut Club for DIY bacterial beauty
Have you had a healthy dose of nakedness today?
Go face to face with your skin.
Sleep naked, drink your morning coffee in the buff.
Give yourself a full body scrub work-out.
Buy a bottle of triple distilled Vodka and a box of aluminium free bi-carb soda.
Mix together in a jar with a lid, until a putty consistency.
Hop in the shower and rinse the body.
Then turn off the shower and scrub your entire body with this wonderful putty.
Can use a natural body brush, mitt or loofah.
Scrub head, face, arms, legs, everywhere.
You may get an itch in certain spots – focus on these areas.
Feel your skin and the underlying tissues.
Here's the naked truth:
Getting comfortable with your own nudity not only provides great pleasure, but also allows you to recognize changes in your skin – changes that might require medical attention.
Get back into the shower and rinse off.
That's it.
Go into the sun for 20 minutes.
Depending on how much sun you can handle at first.
Then just build up from there.
Sun or no sun your skin will be loving how open and clean it is.
Cleaner than it has been in years.
This will take the workload off your other organs and keep you healthy and beautiful!!
---
Are you ready to turn up to work in the buff?
The bizarre event's history dates back to 2010 when Lisa Kanarek quit her corporate job of over 20 years to start a new career working from home.
Work from home was not a common practice back in 2010, compared to our current lockdown times.
While the name of the event may draw sharp reactions, relating to nakedness, National Working Naked Day is really about celebrating the flexibility WFH culture brings in.
National Working Naked Day 2022!
Interestingly, it sparked a chain reaction of memes on the internet.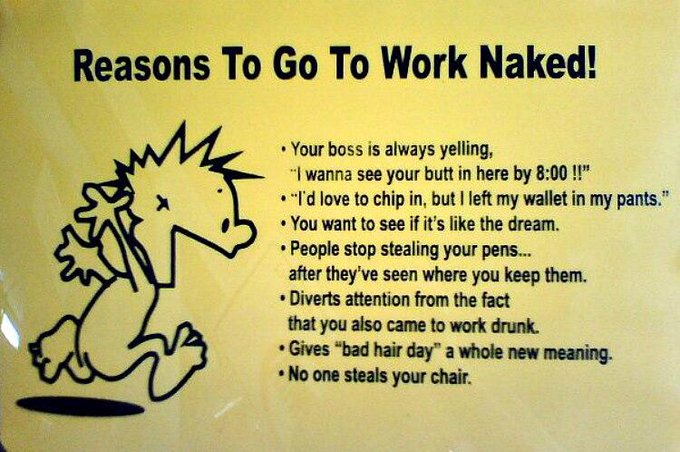 ---
9 February 2022
Read In The Bathtub Day
"Like a good movie, 'Uncovered' brought out understanding and emotion that welled up from deep within.
I could relate to many women in the book… and felt compassion for those whose experience I did not know.
Every woman who volunteered for this project was beautiful… every body, every breast, every spoken word was a poignant reality of how women look, think, and feel."
Matter is an exceptional photographer to capture the essence of all women in his shots.
I find myself wanting to share this book with everyone I know.
I believe there needs to be a shift in what we teach our children, what we relay to others about themselves and their bodies… This book is positive in every way and filled with much wisdom.
Jordan Matter's Uncovered is a book of portraits and personal statements from over 80 brave women, who posed bare-breasted for the project in public locations across New York City.
---
In her foreword, author Susan Seligson states what all men and women already know:
"Breasts are an inexplicably big deal."
Whether hidden under layers of clothing, half-revealed in the service of fashion (and flirtation) or laid brazenly bare, breasts matter. They demand response, provoke moral questions and force confrontation with the very notion of taboo.

Over a period of six years, Jordan Matter photographed over 100 women bare-breasted in New York City. They varied in terms of age, education and profession. Every one was a volunteer. Every subject faced reactions to her decision to defy convention, and many confronted feelings of shame and inadequacy. But after the shoots, the women were unexpectedly euphoric—and Matter wondered just what he had uncovered.

Many of the women agreed to interviews or wrote their own texts for this collection, revealing their journeys toward self-acceptance. The result is a remarkable chorus of shared experience, secret fears, optimism and wisdom. Uncovered celebrates the controversial female body. But it also honour's the individual women who were willing to confront their culture and themselves. These are their images and their stories, in their own words.
---
From Nancy Redd
New York Times bestselling author of Body Drama
"This amazingly unique celebration of women's breasts is not only brave and beautiful, but also insightful and inspiring enough to make even the most frustrated female excited about her body."
What are you waiting for?
Go get comfy and ❤️ the skin you're in.
No SPAM ever! Read the privacy policy